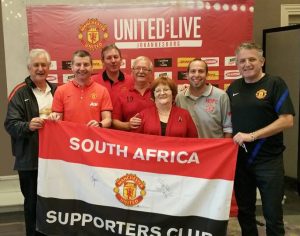 Want To Sign Up For A Membership?
BECOME A MEMBER OF THE LOCAL MANCHESTER UNITED SUPPORTERS' CLUB
If you are planning to watch Manchester United at Old Trafford, then joining the local Supporters Club is the best way to go!
We have been allocated 2 season tickets as well as a few additional seats to all home games during the season. We assign these to members on a first-come first-served basis per match. If you book early enough, you are virtually guaranteed access to match tickets whereas if you were to apply for a ticket with Old Trafford, your chances of attending are slim.
NOTE: To benefit from our season tickets, you must hold the official UK membership as well as be a member of the local Supporters' Club.
To do so, please contact Ethel at ethelred@mweb.co.za or use the contact form below to acquire details on how to go about becoming a member!
Other benefits of a local Supporters' Club membership include a selection of Manchester United merchandise!