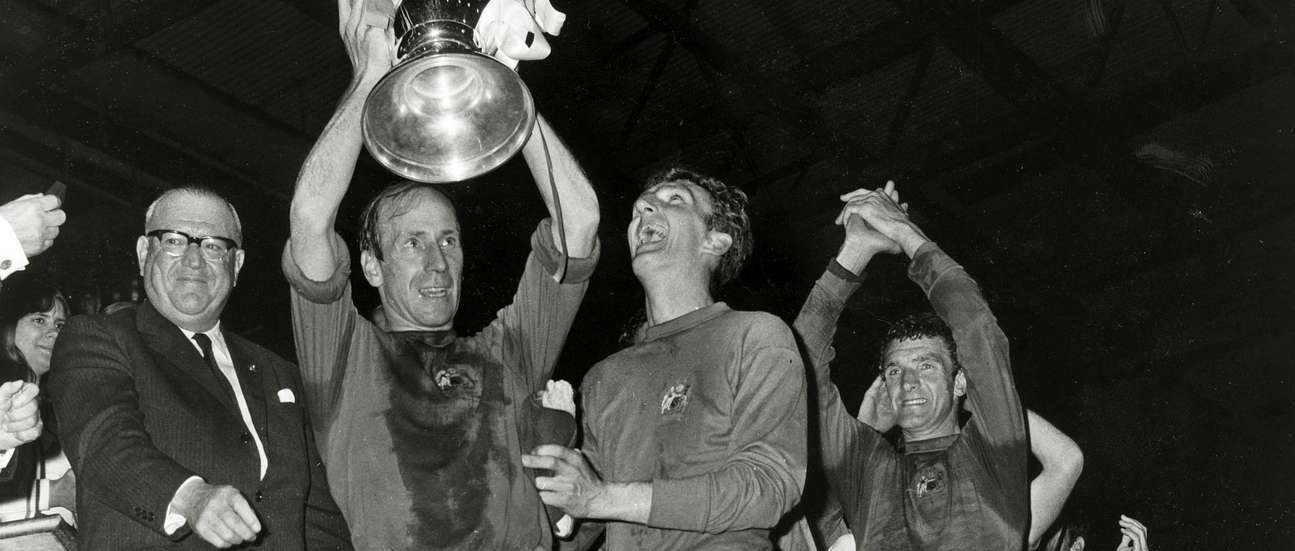 Busby Babes
In October 1945, the impending resumption of football led to the managerial appointment of Matt Busby, who demanded an unprecedented level of control over team selection, player transfers and training sessions. Busby led the team to second-place league finishes in 1947, 1948 and 1949, and to FA Cup victory in 1948. In 1952, the club won the First Division, its first league title for 41 years. With an average age of 22, the media labelled the back-to-back title winning side of 1956 "the Busby Babes", a testament to Busby's faith in his youth players. In 1957, Manchester United became the first English team to compete in the European Cup, despite objections from The Football League, who had denied Chelsea the same opportunity the previous season. En route to the semi-final, which they lost to Real Madrid, the team recorded a 10–0 victory over Belgian champions Anderlecht, which remains the club's biggest victory on record.
The following season, on the way home from a European Cup quarter-final victory against Red Star Belgrade, the aircraft carrying the Manchester United players, officials and journalists crashed while attempting to take off after refuelling in Munich, Germany. The Munich air disaster of 6 February 1958 claimed 23 lives, including those of eight players – Geoff Bent, Roger Byrne, Eddie Colman, Duncan Edwards, Mark Jones, David Pegg, Tommy Taylor and Billy Whelan – and injured several more. – Read more about the Munich Disaster on ManUtd.Com
Reserve team manager Jimmy Murphy took over as manager while Busby recovered from his injuries and the club's makeshift side reached the FA Cup final, which they lost to Bolton Wanderers. In recognition of the team's tragedy, UEFA invited the club to compete in the 1958–59 European Cup alongside eventual League champions Wolverhampton Wanderers. Despite approval from the FA, the Football League determined that the club should not enter the competition, since it had not qualified. Busby rebuilt the team through the 1960s by signing players such as Denis Law and Pat Crerand, who combined with the next generation of youth players – including George Best – to win the FA Cup in 1963. The following season, they finished second in the league, then won the title in 1965 and 1967. In 1968, Manchester United became the first English (and second British) club to win the European Cup, beating Benfica 4–1 in the final with a team that contained three European Footballers of the Year: Bobby Charlton, Denis Law and George Best. Matt Busby resigned as manager in 1969 and was replaced by the reserve team coach, former Manchester United player Wilf McGuinness.